By: Lomesh Choudhary & Anna Guinzbourg
Main Ideas and Background
Much research has been done over the years on skin-engineering, with scientists discovering that cells known as keratinocytes could be taken from the outer layer of skin (the epidermis), and grown in culture. Later, these sheets of newly grown keratinocytes could be transplanted back onto the skin of those who have suffered burns or skin diseases, serving as a permanent treatment. However, these sheets of epidermal cells lacked elements found on regular skin, notably hair follicles, sweat glands, and melanocyte cells.
Researchers Lee and their colleagues took that challenge upon themselves and created skin organoids in their laboratory, containing nearly all the elements found in normal skin. These skin organoids were formed from human pluripotent stem cells, which can differentiate into many different types of cells. Using growth factors, the researchers were able to grow skin organoids containing an epidermis, dermis, hair follicles, melanocytes, and sebaceous glands, among other components. Additionally, the researchers transplanted the skin organoids onto immunodeficient hairless mice, and the organoids successfully grew hair follicles on over half of the mice. Altogether, this research showed the potential for growing fully developed skin cells to be transplanted onto individuals with severe wounds and/or hair loss.
Methods
The initial experiment done by the researchers involved growing the skin organoids in vitro. They began by creating ideal culture conditions for the human pluripotent stem cells within well plates, and proceeded to sequentially add growth factors. First, they added the growth factor BMP4, and an inhibitor of the transforming growth factor β (TGFβ), which would cause the formation of the epidermis. Then, they used fibroblast growth factor (FGF) and an inhibitor of BMP to induce the formation of cranial epithelial cells and neural crest cells, altogether forming the dermis. The cultures were observed for 4-5 months, as they slowly differentiated into skin organoids.
The researchers performed an additional experiment, transplanting the skin organoids containing hair follicles onto immunodeficient nude mice (as to avoid rejection of the skin graft by the mice's immune system). The skin grafts chosen to be transplanted contained skin organoids with hair follicles that had been differentiating in vitro for approximately 113-145 days. Once the skin grafts were transplanted, the researchers observed the mice for about 7-14 weeks, before collecting samples of the transplanted skin grafts for analysis.
Results
The initial experiment showed that after over 70 days, the skin organoids were fully formed. They had an epidermis, and a dermis containing about 50 hair follicles per organoid, with melanocytes that would pigment the eventual hairs. The skin organoids also contained sebaceous glands, fat cells, muscle cells, and nerve cells with the potential to sense touch, essentially an almost complete piece of skin tissue. Important to note, the skin organoids grew into a spherical shape while in vitro, as can be seen in Figure 1. The skin organoids that were formed showed similar genetic characteristics to skin found at the cheek, chin, and ear.
The additional experiment proved to be successful, as just over half of the skin organoids grafted on to the mice showed hair growth. Despite the spherical shape of the skin organoid grown in vitro, once the skin was grafted onto the mice, the hair follicles naturally oriented themselves in the correct direction.
While the experiments were successful in creating essentially fully developed skin in vitro that could then be grafted onto mice, there were still some limitations. The time required for the cells to fully differentiate before they would be ready for grafting was up to 140 days, which would be a potential problem for those who need immediate skin grafts, such as those who have suffered burns. However, this research has great potential in the treatment of genetic skin diseases, wound healing, and even treatment of baldness, and should be further studied.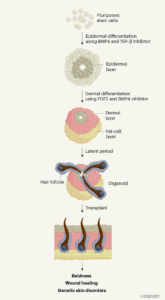 Figure Caption: Figure 1. Pluripotent Stem Cells as they sequentially differentiate into skin organoids using growth factors. Their initial shape is spherical. Once transplanted in vivo, the hair follicles orient themselves correctly.
Thinking Outside the Box
This study is a step towards "curing" baldness in humans and the findings from this study can be used to structure further studies. Scientists are able to uncover how growth factors and cell environment can turn human pluripotent stem cells into skin and human organoids. This understanding can be used to create future studies to target the formation of large scalp hairs that are seen in human hair. Moreover, this approach can be used for creating skin grafts for burn victims. However, future studies have to be done so that these skin grafts are created in a short amount of time (a few days) as burn victims cannot wait for months.
Moreover, the commercial use of products using pluripotent stem cells to regrow hair remains uncertain. In the future, making such products available in clinics to be used by everyone experiencing baldness can be a key area of development.
Fun Facts
The organoids grown to imitate various organs, including the gut, lung, kidney and brain, all come from pluripotent stem cells. Pluripotent stem cells have the ability to become all types of adult cells, and therefore are widely used in regenerative studies.Organoids can live for a long time, in fact, one lab in Stanford has guided organoids into surviving for 800 days. Another fun fact is that keratinocytes can actually be isolated from the surface layer of someone's skin and still grow in culture. These keratinocytes are present in all 4 layers of the epidermis. Another fun fact about hair is that it is one of the fastest growing tissues in the human body. It is interesting to see how much faster researchers can grow hair in organoids considering it takes around 70 days at the moment.
Keywords
Epidermis: surface layer of the skin
Pluripotent stem cells: cells that have the ability to divide and differentiate into any cell type in the body
Organoids: artificially grown mass of cells that resemble an organ
Keratinocytes - epidermal cell producing keratin (protein that makes up hair)
melanocytes - cells in the skin and eye that produce melatonin
Citations
https://www.nature.com/articles/s41586-020-2352-3
Lee, J., Rabbani, C.C., Gao, H. et al. (2020) Hair-bearing human skin generated entirely from pluripotent stem cells. Nature 582, 399–404 . https://doi.org/10.1038/s41586-020-2352-3
https://www.nature.com/articles/s41592-020-0964-z
Marx, V. (2020). Reality check for organoids in neuroscience. Nat Methods 17, 961–964. https://doi.org/10.1038/s41592-020-0964-z
https://www.nature.com/articles/d41586-020-01568-2
Wang LL, Cotsarelis G. (2020). Regenerative Medicine could pave the way to treating baldness. Nature 582, 343-344. https://doi.org/10.1038/d41586-020-01568-2