Main Ideas/Background
Our skin acts as a tough barrier that protects us from the harsh outside environment. How does it do this? The skin is made up of many layers of epidermal cells which are constantly being regenerated, maintaining the skin barrier. Why are skin cells of interest to researchers? Their unique mechanism of differentiation from stem cell to skin cell which allows them to constantly regenerate may provide clues to how other tissues could also regenerate in this fashion. Specifically, researchers have been studying the skin cells' IpA mechanism, a mechanism which determines the premature termination of transcription, allowing for regeneration. The researchers want to understand how introns in skin cell transcription lead to the phenomenon of skin cell renewal.
Methods and Results
To determine the mechanism of skin cell differentiation, a new genomic approach that focused on mapping the termination sites of transcription was used. In addition, insights into the role of introns were investigated by using proteomic techniques that focused on RNA-binding protein identification. This was to determine the specific proteins that are used to read the regulatory sequences within the introns. Furthermore, the CRISPR-Cas9 mechanism was used. CRISPR is a DNA sequence that is used to guide the Cas9 protein to delete specific sequences within the genome. Therefore, this technique was used in the study to delete specific sequences within the introns to determine their significance in regulating the expression of certain genes involved in skin cell differentiation.
Direct evidence of following their CRISPR step shows that introns play an essential role in regulation of gene expression. The use of polyadenylation sites is a key indicator of gene regulation and the study found that 2739 of the 14625 polyA sites are located in the intronic regions. CRISPRi was then used to suppress expression of the specific genes for intron-binding proteins, such as CPSF1. Suppression of this gene resulted in impaired regeneration in skin cells as it directly reduced the usage of most (78%) IpA sites. This alongside other parallel experiments comparing differentiated and undifferentiated skin cells confirmed that introns are essential players in skin cell regeneration.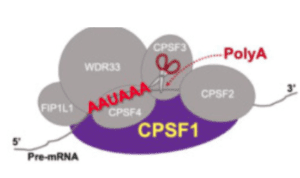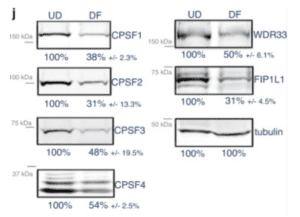 Figure 1: Displays Cleavage and Polyadenylation Specificity Factor (CPSF) complex essential for intronic polyadenylation (IpA).
Figure 2: Reduced expression of CPSF proteins allows for the differentiation of human keratinocytes. This reveals an important relationship between CPSF expression and IpA sites which determine if differentiation occurs in keratinocytes.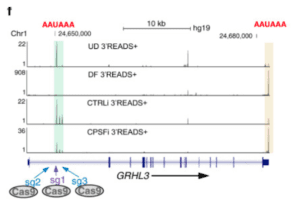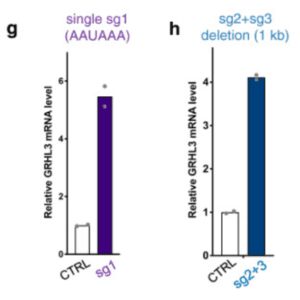 Figure 3: Displays the CDS (coding sequence) of the GRHL3 gene and the use of CRISPR to delete AAUAA intronic sequences.
Figure 4: Compares the mRNA expression of genomic sequence with deleted introns and a control group. In control groups where IpA is allowed, transcription termination occurs more frequently. By eliminating the intronic region that is essential to IpA, we see more expression of the GRHL3 gene.
Key Terms
CRISPR: Clustered regularly interspaced short palindromic repeats. In this article CRISPR is utilized to knock out specific sequences in the intronic region of DNA. By observation, sequences knocked out that are essential to IPA greatly affects the expression of the GRHL3 gene.
Cas9: CRISPR-associated protein 9; enzyme capable of cutting strands of DNA
IpA Sites: Intronic polyadenylation sites; sites within introns that have been associated with premature termination of transcription
GRHL3: a transcription activator in the greyhead family of proteins
Thinking Outside the Box
Studies concerning the regenerative properties of skin cells, could prove useful for further research in other cell types. Scientists are beginning to uncover how RNA-binding proteins regulate intron splicing during protein synthesis. Light is also being shed on the mechanisms regulating stem cell differentiation. This new understanding can lead to better skin cancer treatment, as well as a more profound comprehension of the regenerative properties of every type of cell in the human body.
Fun Facts
Research on scarless wound healing is helping scientists better understand skin regeneration. Human skin is self-renewing, meaning that old tissue is continuously turned over, to compensate for wear and tear. Aged skin is sometimes regarded as wounded skin because it is no longer able to maintain its normal function. Skin rejuvenation is becoming more prevalent in society, as more people desire to remove damaged skin cells on the surface, to reveal younger-looking skin.
Authors: Anna Guinzbourg, Olivia Layne, Um-Salama Omar, and Billy Ta
Reference:
Chen, X., Lloyd, S.M., Kweon, J., Gamalong, G.M., & Bao, X. (2021). Epidermal progenitors suppress GRHL3-mediated differentiation through intronic polyadenylation promoted by CPSF-HNRNPA3 collaboration. Nature Communications, 12(1). DOI: 10.1038/s41467-020-20674-3.
Original article can be found HERE